BC-5 Bus Converter
Communication Between Busses
FAA TSO'd to DO-160G & DO-178 Level C
ARINC 429, CAN, RS422, RS232, Bluetooth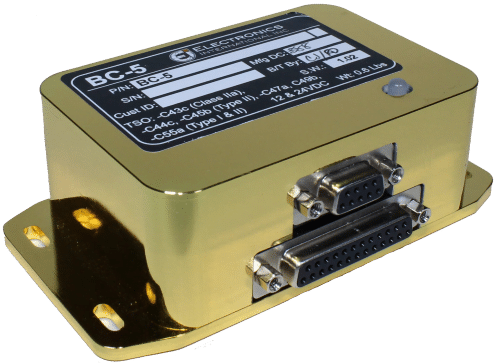 Communication Between Busses
ARINC 429, CAN, RS422, RS232, Bluetooth
Precise, Stable & Accurate
FAA TSO'd to DO-160G & DO-178 Level C
Designed and Built in the USA
Electronics International consistently has been the leader in digital engine instrumentation since 1979.
The BC-5 (Bus Converter), also referred to as a Data Combiner or Data Concentrator, converts data between various bus systems. This allows devices such as engine FADC systems or other airframe systems to communicate to a display unit or any other device. Also, the BC-5 is capable of receiving analog signals and combining this data with unformatted data to provide a single data string for a display unit or other device. The BC-5 can be used on piston, turboprop or jet aircraft as well as helicopters.
Common applications include Rotax Engine Data Conversions, ARINC 429 Data Viewer, Serial Bus Data Converter, Trend Data Conversions.
Bring Us Your Project



For more information on how the BC-5 can help you, contact us by phone at (541) 318-6060 or by email at Support@iFlyEi.com.
Dimensions
3.8" L x 2.6" W x 1.57" H
Weight
0.66 Lb
Power Requirements
7.0 to 40 Volts
Typical: 0.1 amps @ 12 Volts
Certifications
FAA TSO'd to DO-160G & DO-178 Level C
Communication Ports
ARINC 429
RS 232
RS 422
CAN
Bluetooth