CA-1 Carb and OAT Instrument
$488.00
Primary Replacement
2 1/4″ Flush Mount
Displays Carb and Outside Temperature Readings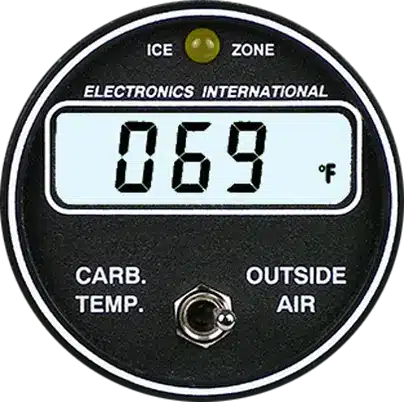 Don't Need Your Glasses To Read
Large digital backlit display.
Interpret Your Readings Faster
The digital display allows for quick trend analysis.
Budget Friendly
Same precision found in the most advanced analyzers on the market, but won't break the bank.
Accurate, Dependable & Easy To Use
LCD sunlight viewable and backlit for night operation.
Electronics International consistently has been a leader in digital engine instrumentation since 1979.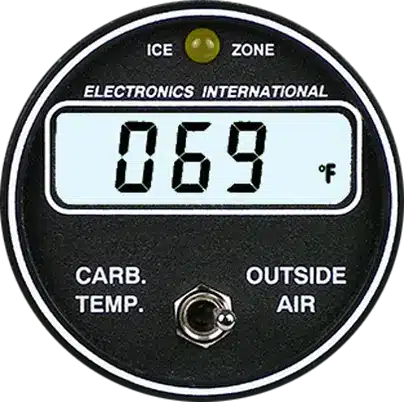 OAT and Carb Temp
Electronics International provides the budget-conscious pilot the option to monitor their Carburetor Temperature and Outside Air Temperature with the same precision found in the most advanced analyzers on the market, while not breaking the bank.
Ice Zone Warning
The CA-1 provides pilots with one channel of Carb Temp and one channel of OAT readings in a stable, one-degree digital format. An "Ice Zone" Warning Light alerts the pilot when either temperature is between 10 Degrees to 39 Degrees (Fahrenheit).
Package includes:



A-1 Carb Instrument

2 ea. P-128 Precision Probe

2 ea. XP-6′ Precision Thermocouple Cable

Wire Harness

Operating & Installation Instructions
| | |
| --- | --- |
| Description | Retail Price |
| CA-1 CARB TEMP & OAT | $488 |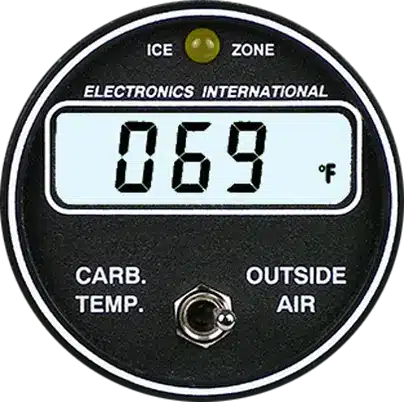 Dimensions
2.5″ x 2.5 " x 2.65" Deep, 2 1/4" Flush Mount
Weight
7 oz. (Unit), 1.6 oz for a Temperature Probe & 2 oz for a 6′ Cable
Power Requirements
7.5 to 30 Volts, 1/10 Amp
Ice Zone Warning
Light is lit when displayed temperature is between 10'F and 39'F.
Display
Viewable in direct sunlight, with dimmable 12 and 24 volt backlight control lines.
Intensity Control
Separate intensity control lines allow you to independently control Ice Warning Zone and Backlight intensity.
Probes
Type K Thermocouple, Ungrounded
"Always built well. Always dependable. Been using & relying on EI equip for over 35 years!"
Customer:  Gregg J. from Indiana
Aircraft:  Piper PA-28-181
EI Instrument:  CA-1 Carb and OAT Instrument
"CA-1, great product.  So easy to read."
Customer:  Don M. from Texas
Aircraft:  Cessna 182Q
EI Instrument:  CA-1 Carb and OAT Instrument