CGR-30C Cluster Gauge Replacement
Primary Replacement STC'd, TSO'd & PMA'd
3 1/8″ Flush Mount
Replace Up To 16 Gauges In Your Panel.
FAA Approved Primary Replacement
The CGR-30C allows for the removal of old engine instruments such as oil temperature/pressure, fuel pressure, and fuel level.

Monitors four or more fuel tanks in an easy-to-read, full-color digital format.
Easy To Install
The CGR-30C mounts flush into an existing 3 1/8″ hole.

Engine Data Converter (EDC) accepts all inputs. Only 2 wires run to the back of the instrument.
Accurate, Dependable & Easy To Use
Electronics International consistently has been the leader in digital engine instrumentation since 1979.

Designed and built in the USA.
Data Recording of Every Flight
All monitored functions are stored up to three times per second.

Up to 1,500 most recent flights stored, downloaded via a USB port.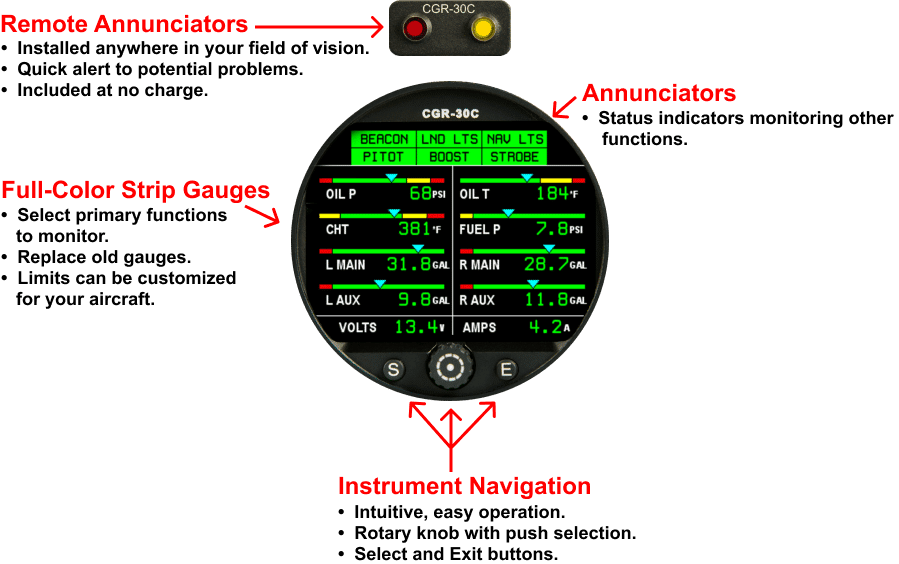 The CGR-30C provides several full-color strip gauges and/or arc gauges (see the alternative configuration below). These give pilots a quick reference view of critical parameters, along with digital readouts for the pinpoint accuracy expected from Electronics International products.
Main Screen Alternative Configuration
The CGR-30C offers an alternative Main Screen configuration with MP and RPM arcs.


The Secondary Screen is intended to display functions which do not need to be displayed continuously. This screen can display up to 6 secondary functions or additional primary functions that will not fit on the Main Screen. These primary functions will all annunciate to whichever screen you're viewing if a limit is violated. The red and/or yellow range annunciators on the Secondary Screen will blink to alert the pilot of any potential problem with a primary function on the Main Screen.
Valuable Tool for Safe Flights
Checklists can help ensure critical steps are followed in any phase of flight.
Store up to 50+ custom checklists.
Checklists can be created in a text editor, then uploaded via USB to the CGR-30C.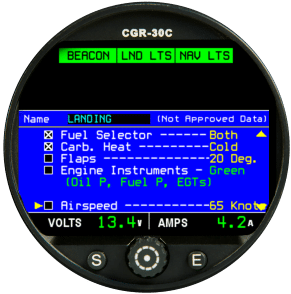 This screen allows you to download Flight Data to a USB flash drive and set the Data Sample Rate. The Data Sample Rate is the time interval between recorded data. The CGR-30C can record up to 1500 flights before it records over the oldest flight first. The USB port may be found mounted in the instrument panel or hanging under it. Flight Data is recorded and downloaded in a comma delimited format. This allows the file to be ported directly into Excel.
Every package is custom built to your POH/AFM. Please allow for longer than normal lead times.
Due to increased demand, our current lead time is 6-8 weeks.
Description
Package
Retail Price
CGR-30C Package (prices include probes & cables) with EDC*
CGR-30C

$2,952 (+ based on function selection)


Rebate Available!
See Details
*Engine Data Converter (EDC) accepts all inputs from probes and transducers. If an EDC is already installed for another instrument, then an additional EDC may not be required.
First 8 functions selected are included in the package price, functions 9-16 may incur additional charges. Prices indicated below.
Oil Pressure (

$250

)
VAC (

$150

)
Tach Time (N/C)
Oil Temperature (

$98

)
Volts (

$39

)
OAT (

$98

)
Fuel Flow (

$295-$690

)
CO Detector** (

$495

)
Horsepower** (N/C)
Fuel Pressure (

$195-$390

)
Manifold Pressure (

$150

)
Flight Time (N/C)
Fuel Levels (

$150

)
RPM (

$98

)
Local Time (N/C)
TIT (

$98

)
Engine Time (N/C)
Local Time (N/C)
Hydraulic Pressure (

$250

)
Amps (

$39

)
Local Time (N/C)
Carb Temp (

$95

)
Second Amps (

$195

)
Cabin Pressure (

$150

)
EGT Single Channel (

$98

)
CHT Single Channel (

$98

)
Cabin Differential Pressure (

$150

)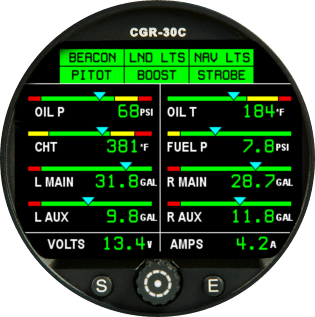 **Other function rules may apply. See the CGR-30C Configuration Worksheet for details.
Dimensions
3.25" x 3.25" x 4.45" Deep, 3 1/8" Flush Mount
Weight
1.1 Pounds (Instrument Only)
Power Requirements
7.5 to 30 Volts
Typical: 0.2 amps @ 12 Volts, 0.1 amps @ 24 Volts
Display
Active Matrix, Sunlight Readable
Backlight
Fully Dimmable for Night Flights
USB Port
Data Download and Software Updates
Internal Storage
Up to 1,500 most recent flights stored. All monitored functions are stored up to three times per second. Recorded flight data can be easily downloaded via USB port.
Certifications
FAA STC'd as Primary Replacement
FAA TSO'd to DO-160G
FAA DO-178 Level C
Transport Canada Civil Aviation (TCCA) Validated STC
European Aviation Safety Agency (EASA) Validated STC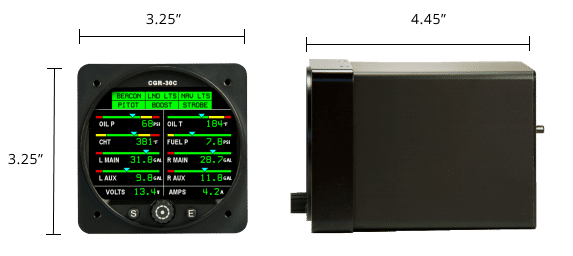 Engine Data Converter (EDC-33P) Specifications
Dimensions
5.85" x 3.71" x 2.35" Deep
Weight
1 Pound (Instrument Only)
Power Requirements
7.5 to 30 Volts, Typical: 0.1 Amps
Certifications
FAA TSO'd to DO-160G and DO-178 Level C
Supported Channels
1 Volt Channel, 1 Amp Channel, 1 Fuel Flow Channel, 6 Pressure Channels, 17 Temp Channels, 4 Resistive Fuel Level Channels, 4 Capacitive Fuel Level Channels and 2 RPM Channels